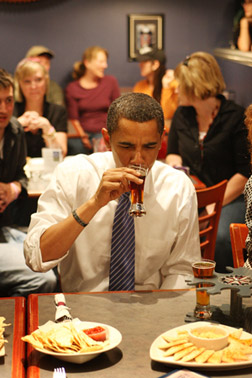 From
Slate.com last night
:

When Obama announced that he would have a Budweiser on Thursday night, it suggested he was going for the most regular-guy brand he could find. (It sells for about $6.50 for a six-pack.) But it turns out that the cop likes the same kind of fancy beer the professor does: He's having a Blue Moon, a Belgian-Style witbier ($7 to $9 a six-pack), while Gates is having a Red Stripe ($7) or Becks ($8). Upon this affinity for upmarket beers may be built a towering reconciliation.
Much more analysis at the link.
But come on. We can have some fun with this.
I want suggestions of beers that SHOULD be drunk by the respective photo-op whor--I mean, invited guests at the White House. Pick sarcastic, biting commentary in the beer names.
Gates: Black Sheep? Sisson's had a Wise Guy Weissbier ages ago...... Shepherd Neame Spitfire?
Crowley: Anyone got a police-themed beer other than Great Lakes' The Eliot Ness?
Obama: Of course,
everyone's
mentioning
Avery Brewing's "Collaboration Not Litigation"
beer, but can't we do better than this? Isn't there, for want of a better way to phrase it, a "Kumbaya" beer or something?
Suggestions/entries solicited. Any that really get me laughing or shouting in agreement win a prize TBA.
UPDATE: Bruce Elliott of WBAL Radio: "What, can't they even agree on one beer to share?"
MORE: It seems like everyone's got a comment on this overwrought issue.
Brewers.
Full-of-itself NPR.
DC City Paper blog.
Jim Koch of Sam Adams via NPR again.