Read all about it in
The Guardian right here
.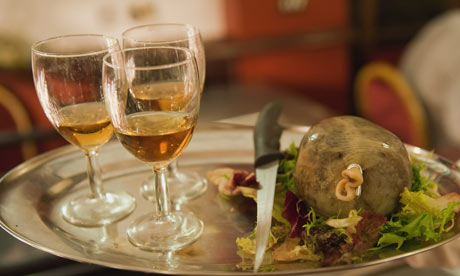 For the uninitiated, haggis is a traditional Scottish dish involving lamb parts, oatmeal, suet, and cooking in the stomach of a lamb. Sounds disgusting? Och, nae, mate, it's jes' Scottish scrapple--the only difference is you substitute oatmeal for cornmeal and lamb for pig.

What I fail to understand, however, is this:

Meanwhile, butchers in the US have tried, and failed, to make their own versions of the pudding without using the vital ingredient: sheep. "It was a silly ban which meant a lot of people have never tasted the real thing," said Margaret Frost, of the Scottish American Society in Ohio. "We have had to put up with the US version, which is made from beef and is bloody awful."

Who in hell ever tried to make a haggis with beef? And what the heck--have none of you bloody Yank butchers ever heard of lamb? It's not just something you throw on an Afghan shish kabob, after all!
And for those of you determined,
here's a 21-step-by-step photo guide
. (Not for the vegetarians or squeamish--and there's actually a bumper sticker, supposedly based on a graffito in a Scottish loo: "Scotland is not for the squeamish." And if you insist, there's
more discussion on haggis and vegetarian versions here
--though, to my mind, that goes over just as well as vegetarian steaks at Ruth's Chris Steak House or Fogo de Chao.. Or non-alcoholic single malt whisky.)
Back on topic: The Scottish Ale at Pratt Street Ale House is selling probably as briskly as any seasonal they have ever had, and a second batch is in the works as a result, according to owner Justin Dvorkin and brewer Stephen Jones.